13,4% RASPBERRY YIELD GAIN WITH "LitePlus® Berry" ADDITIVE FOR BERRY TUNNELS
2020 HUELVA Raspberry trial at ADESVA Experimental farm
The typical colored films that modifies sunlight
CASCADE, a young French company created in 2012, is a specialist of optically active additives which once dispersed into agriculture tunnel films modifies and optimizes sunlight spectrum for each different crop categories. This LIGHT CASCADE® technology gives a typical bright color, from pink to blue, to agriculture cover films for berry tunnel, doble techo or even greenhouse film.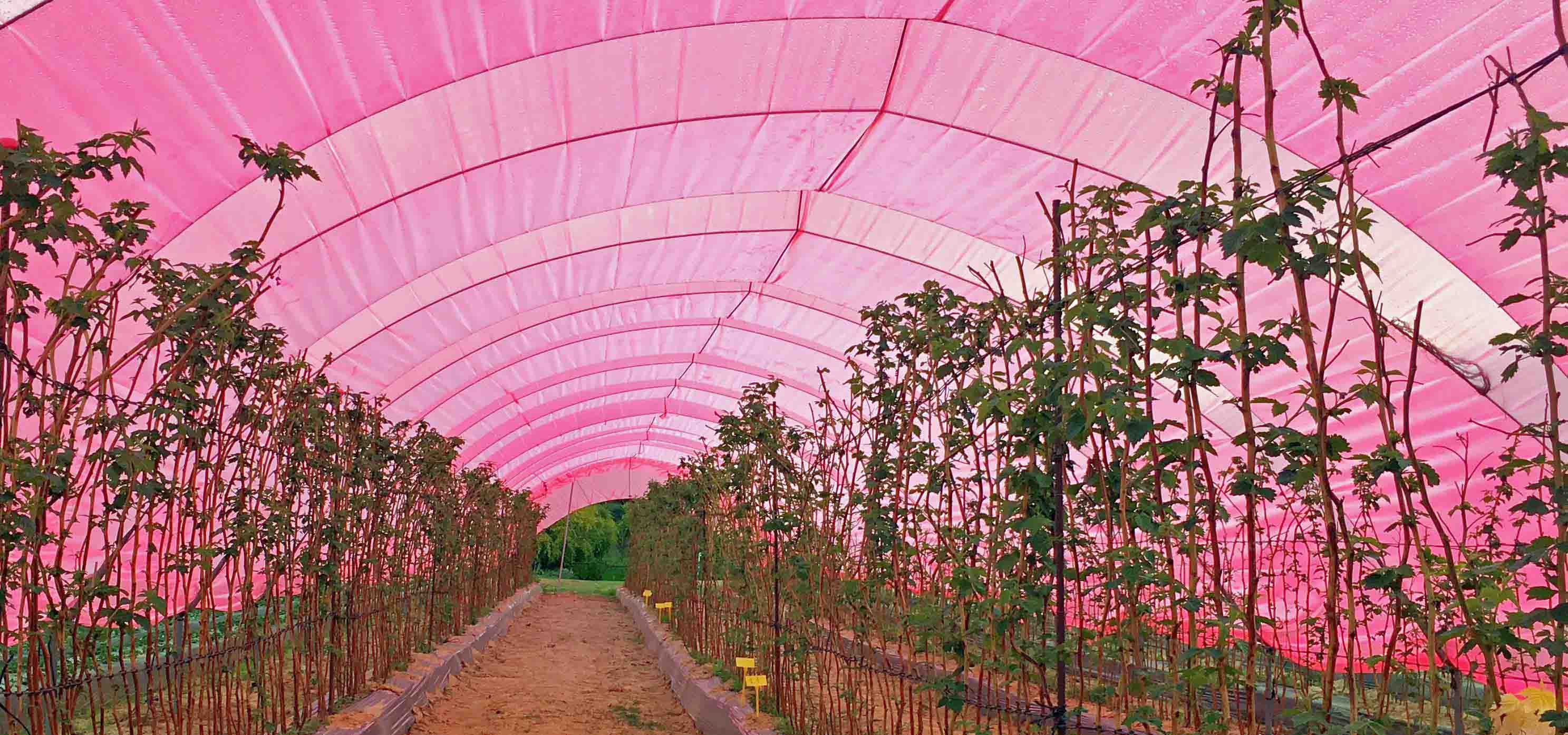 LIGHT CASCADE® technology: How does it work?
The main concept of LIGHT CASCADE® technology is to absorb less useful sunlight wavelengths, such as UV and Green, to reemit them into Blue and Red wavelengths more advantageous to photosynthesis and that can influence favorably photomorphogenesis. Since light requirements are plant species specific, CASCADE follows a per crop strategy adapting its formulations to each crop category, such as vegetables or berries.
Over 100 trials in real growing conditions confirmed agronomic benefits
LIGHT CASCADE® technology needs to be evaluated in real growing conditions to optimize agronomic results. More than 100 trials have been carried out in Europe on different crops, including 44 on berries only. Results have shown positive effects under stressing environmental conditions: low light intensities during winter, heavy rainfalls, low temperature, nutrients deficiency.
For this reason, with ADESVA farm support, CASCADE is focusing its agronomic trials on winter cultivated berries. Since 2016, CASCADE has run many berry trials to fine tune its formulations and adapt them to berry crop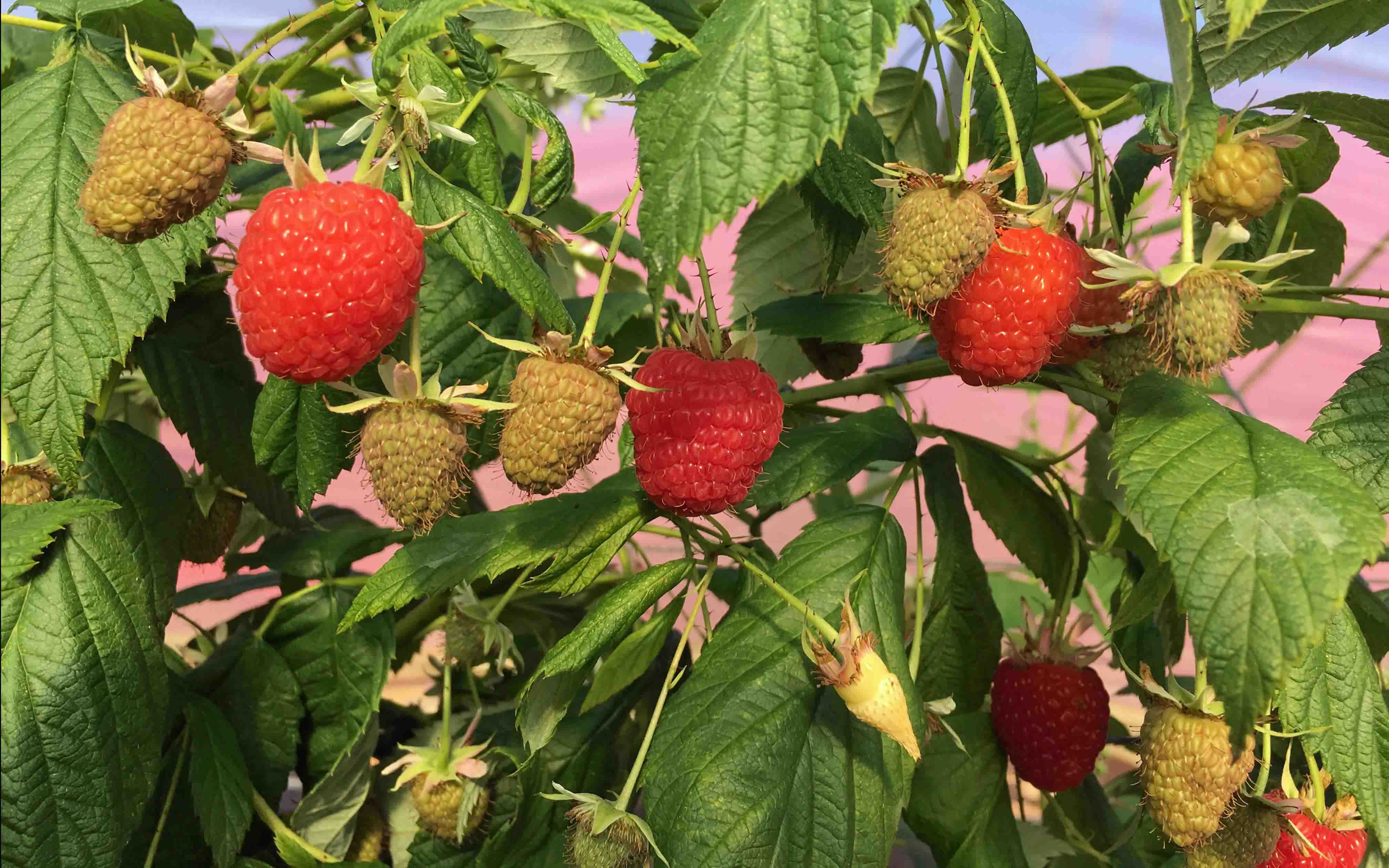 On September 2019, CASCADE organized, on ADESVA farm, a seminar to launch its first berry offer. Around 100 berry growers and agronomic experts attended the seminar and Magdalena Torres, ADESVA farm manager, presented the positive agronomic results obtained with LIGHT CASCADE® technology on the different berry trials (strawberry, raspberry, and blueberry) carried out since 2016 at ADESVA farm.
New 2020 raspberry trials confirmed benefits of LitePlus® additives for berry tunnel films
This year 2020, a new trial has been carried out on raspberry crop (var. 'Adelita') with different formulations to optimize and confirm agronomic benefits of the technology on this crop.
Previous results had shown that winter cultivated raspberries respond positively to LIGHT CASCADE® technology. Indeed, first raspberry ADESVA trials carried out in 2017 on the 'Glen Lyon' variety highlighted a substantial sugar content improvement of the fruits (+4°Brix) under LC® films.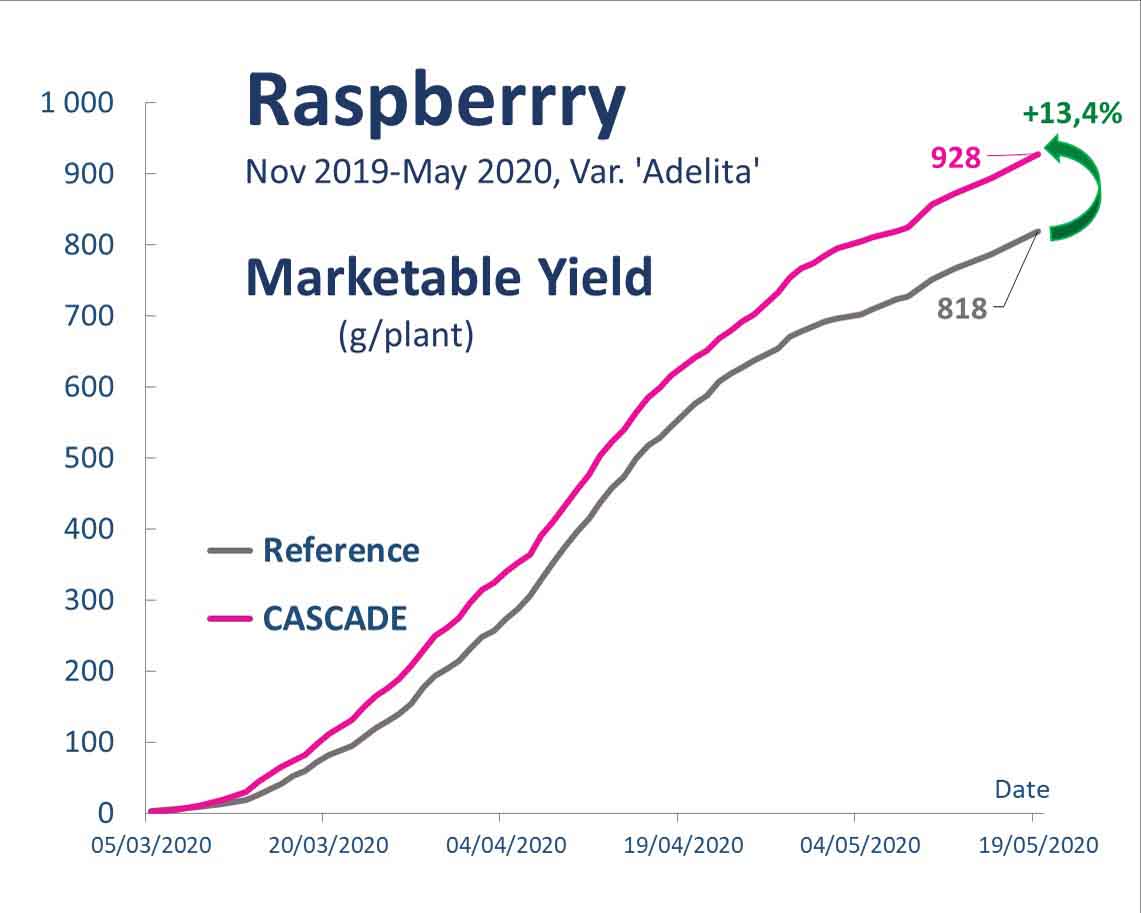 Further trials run in 2018-2019 and in 2019-2020 on early producing varieties ('San Raphael' and 'Adelita') highlighted and confirmed marketable yield increases of 14,6% and 13.4% respectively with an increased number of fruits per plant (+20%). Quality was also improved with higher fruit weight (+7%) and sugar content at first harvests (+0.8°Brix).
Meantime, the French national agronomy research institute (INRAE) via its IRHS team in Angers, carried out a two-year trial on another, well-known French raspberry variety, 'Tulameen' and results highlighted a net yield gain of +29% with better fruit quality during the first harvests.
First feedback from berry farmers confirms agronomic benefits of LitePlus® films
In the fall of 2019, some Huelva farmers acquired first available LitePlus® Berry films for their own evaluation. Although proper yield quantification is not possible for many farmers, some who could closely monitor crop yield noticed better flowering, an increase in yield quantified between 10 and 15 %, and similar or improved fruit quality.