Crop yield gains of
+ 14% on strawberries & raspberries
+ 60% on blueberries
Huelva Berry seminar
ADESVA, Sept. 17th, 2019
LIGHT CASCADES® incorporated into berry tunnel foils
More than 5 years of work in collaboration with INRA and specialized experimental farms (INVENIO in France, ADESVA in Huelva Spain) were necessary to develop a first LIGHT CASCADES® formulation adapted to berry crops.
On September 17th, 2019, CASCADE and ADESVA presented in HULEVA latest agronomic results on the three most cultivated red fruits, strawberry, raspberry and blueberry. This seminar was a great success with close to one hundred berry farm professionals attending.
Agronomic results of 2019 berry trials aroused a lot of interest and questions from farm professionals. Several press reporters attended the seminar, they then generated several articles in regional professional newspapers and websites which informed producers in the Huelva region. Following this event, several dozen hectares of berries crops were deployed in winter 2019-2020.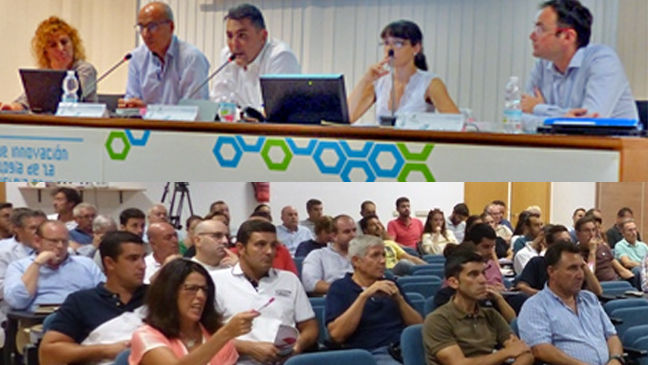 14% yield increase at 2019 Huelva strawberry trial
At a major Huelva berry producer, a strawberry crop was covered by a LIGHT CASCADES® foil from mid-November 2018 to the end of May 2019, date of the last harvests. Agronomic results were positive in terms of final yield (+ 14%) but also on fruit quality: sugar level (BRIX + 1 °) and post-harvest shelf life (+ 0.7 day).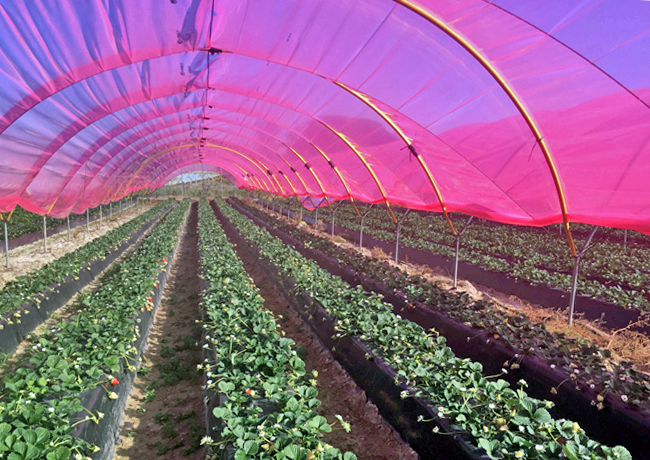 2019 berry trials at ADESVA experimental farm
+ 14% yield gain on raspberry, + 60% on blueberry
A LIGHT CASCADES® doped foil was installed on a raspberry crop (Var. San Rafael) on mid-November and harvests lasted from mid-March to early May.
A 14% crop yield gain was measured representing 2,400 kg/ha or more than 10,000 €/ha of crop value. Those gains were made while maintaining fruit quality.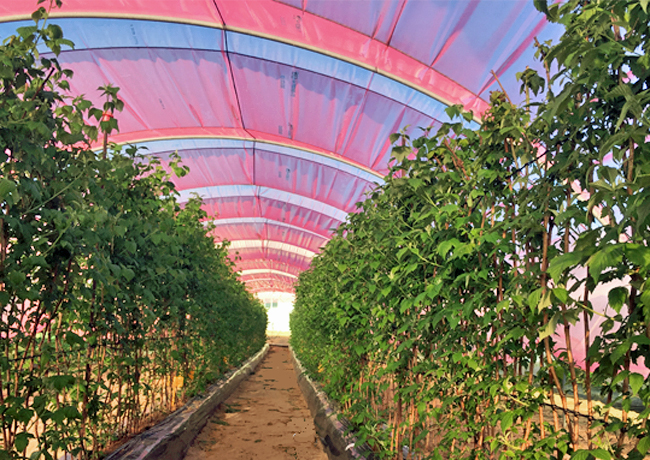 A second blueberry trial (Var Ventura) was carried out with a foil also installed mid-November, harvests started on 22/3/2019 to end late May. Results were remarkable with an impressive yield gain of more than 60%, for an equivalent of more 20 T/Ha under LIGHT CASCADES® doped films against only 12.5 T/Ha under the standard foil. This represents a crop value gain of more 25,000 €/Ha while fruit quality was also maintained.
Find below links to some articles published by Spanish press reporters summarizing CASCADE agronomic results presented during the seminar.
Parution LA VANGUARDIA (spanish)
Parution HUELVA RED (spanish)
Parution HUELVA INFORMACION (spanish)
Parution AGRODIARIO HUELVA (spanish)
Parution ABC SEVILLE (spanish)